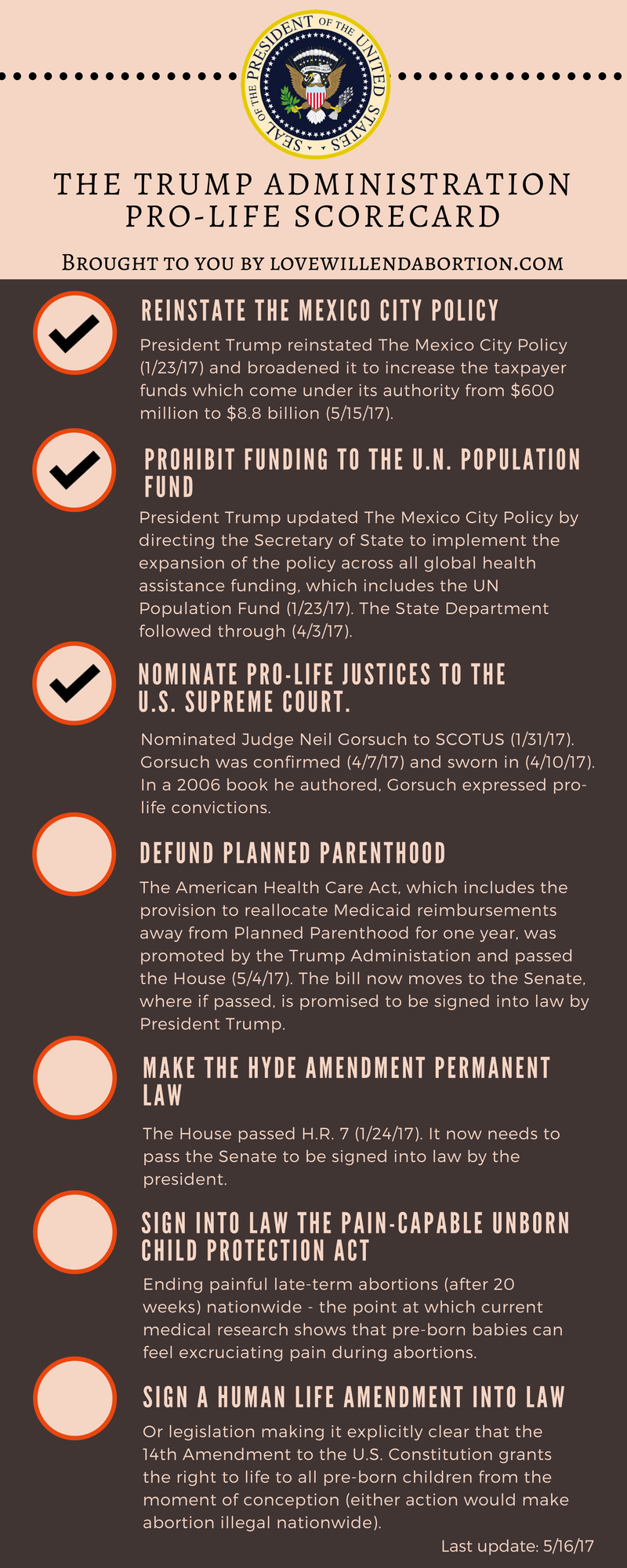 The Trump Administration Pro-Life Scorecard
I believe in holding our elected officials accountable for their campaign promises and their actions while in office. The purpose of this page is to remember the promises made by then-candidate Trump leading up to the 2016 Presidential Election and to track the progress of now President Trump in his efforts to fulfill those promises.
The following seven pro-life promises are taken from then-candidate Trump's September 2016 Pro-Life Coalition Letter and the 2016 Republican Party Platform.
(Last update: 10/16/17)
Reinstate the Mexico City Policy
January 23, 2017: Three days after President Trump's inauguration, he signed an executive order that reinstated the Mexico City Policy which prohibits non-governmental organizations (NGOs) – including International Planned Parenthood – from receiving taxpayer funds if they provide or promote abortions overseas, or if they advocate for the passage of pro-abortion laws in other countries.
Abortion is no longer a U.S. taxpayer funded export under President Trump. The Trump Administration has effectively defunded International Planned Parenthood and other abortion providers and advocates around the world.
Here's what Cardinal Wilfrid Napier from South Africa said about the Trump Administration's reinstatement and expansion of the Mexico City Policy: the "tide is beginning to turn" against the "massacre of the unborn (National Catholic Register 2/23/17)."
May 15, 2017: The State Department followed through on President Trump's executive order and expanded the definition of the Mexico City Policy that previously covered only "family planning" funds to now cover all foreign health assistance provided by government agencies.
"For the first time ever, the White House isn't just bringing $600 million in taxpayer funding under the authority of the pro-life rule, but $8.8 billion from the Departments of State, Health and Human Services, and Defense. That's almost 15 times more money flowing through the abortion ban than President Bush's policy! (Family Research Council, 5/15/17)"
Prohibit Funding to the UN Population Fund
January 23, 2017: Also part of the Mexico City Policy executive order, President Trump kept a second pro-life campaign promise in his updating of the policy to direct the Secretary of State to implement a plan that expands the policy across all global health assistance funding (not just NGOs). Meaning, U.S. taxpayer dollars will no longer be supporting any organizations that promote or participate in abortion oversees. This includes defunding the U.N. Population Fund (which is tied up in China's barbaric program of forced abortion). 
April 3, 2017: The State Department followed through with the executive order and issued a letter to the Senate Foreign Relations Committee announcing that it will no longer fund the U.N. Population Fund. In total, $32.5 million will be withdrawn for the 2017 financial year.
Furthermore, President Trump's ambassador to the U.N. is pro-life, former South Carolina Governor Nikki Haley. In March 2017, Ambassador Haley's statement at the U.N. Commission on the Status of Women refreshingly did not mention "sexual and reproductive health" or "reproductive rights." These euphemisms that have been standard language to express the promotion of abortion around the globe under the culture of death Democratic Party are no longer in being advancing by the U.S. internationally.
Keep in mind: These initial and immediate pro-life actions by President Trump are even more impactful when one realizes that if Hilary Clinton had been elected President, she would have taken things in the opposite direction. As president, Hilary Clinton would have not only refused to reinstate The Mexico City Policy, but she would have also eliminated the Helms Amendment, which has been in place since 1973, and directly forbids funding of the abortion procedure itself.
Nominate Pro-life Justices to the Supreme Court
January 31, 2017: President Trump nominated Judge Neil Gorsuch to the U.S. Supreme Court.
By all accounts, it looks like President Trump's appointment of Judge Neil Gorsuch to the Supreme Court is a home run for the culture of life – he wrote a book about euthanasia and assisted suicide in 2006 in which he stated that life is "intrinsically valuable" and that "intentional killing is always wrong" – but you never really know with absolute certainty when it comes to Supreme Court picks. 
With the information available, I believe we can check off Trump's promise of nominating pro-life justices to the Supreme Court. Yet, time will tell if Judge Gorsuch actually follows through and protects the fundamental right to life for pre-born humans once he is sitting on the bench. There is reasonable cause to expect so.
April 7, 2017: Judge Gorsuch was confirmed by the Republican-controlled Senate (in a 54 to 45 vote).
April 10, 2017: Judge Gorsuch was sworn in as the Supreme Court's 113th justice.
Additionally, the President of the United States not only has the power to appoint Supreme Court justices, but also to appoint other federal justices as vacancies arise. 
March 20, 2017: President Trump began appointing judges to lower federal courts by appointing Judge Amul Thapar to the 6th Circuit Court of Appeals. It has been said that "Trump had put Thapar on his short list for a nomination to the U.S. Supreme Court, but chose Judge Neil Gorsuch instead (Lexington Herald-Leader 3/20/17)." It has also been reported that President Trump "could soon find himself responsible for appointing a greater share of federal court judges than any first-term president in 40 years (The New York Times, 2/14/17)."
Note: This will counter-balance the damage done by pro-abortion President Obama who appointed over 600 federal justices during his presidency (including two Supreme Court justices).
October 8, 2017: "Ten months in, Trump has nominated 17 circuit court judges and 39 district court judges. That's far more than former President Barack Obama's 10 circuit court nominees and eight district court nominees by this point in his first year of office. Former President George W. Bush had nominated 14 circuit judges and 32 district judges by this point (Huffington Post 10/8/17)."
Defund Planned Parenthood
March 24, 2017: President Trump took action toward keeping his promise of defunding Planned Parenthood (as long as they continue to perform abortions, and to reallocate their funding to federally qualified health centers), by attempting to build support for the GOP health care bill (a.k.a. The American Health Care Act) that contained the action. The bill failed to get through the House.
Note: Planned Parenthood receives tax dollars in two ways – Medicaid reimbursements and Title X of the Public Health Safety Act.
Planned Parenthood, the nation's largest abortion provider, receives about 43% of its budget from taxpayer funds, totaling about $500 million from taxpayers. Medicaid reimbursements account for the majority of their federal funding and Title X provides the rest.
March 30, 2017: Vice President Mike Pence was the tie-breaking vote in the U.S. Senate to overturn a rule, enacted by the Obama Administration and which went into effect two days before President Trump was inaugurated (a parting gift from the Obama Administration to the abortion industry that is entrenched within the Democratic Party), that forced states to fund Planned Parenthood and other abortion providers (Title X is a federal program that provides funding to health-care centers to provide contraception and other family planning services, excluding abortion. President Obama's rule declared that states could not bar Title X funds from going to groups that perform abortion).
April 13, 2017: President Trump signed the rule change into law, restoring the ability of states to redirect Title X funds away from Planned Parenthood and other abortion providers and toward comprehensive health care clinics that better serve women and girls and do not provide abortions. This means states can divert these Title X funds, but it does not mean that they have to. Before the Obama rule went into effect, 13 Republican-led states were restricting the Title X funds to Planned Parenthood. Hopefully more states will do the same in the near future. 
All 48 of the Senate Democrats opposed the legislation to overturn the Obama rule, as did two Republican Senators: Susan Collins of Maine and Lisa Murkowski of Alaska.
May 4, 2017: The American Health Care Act, promoted by the Trump Administation, passed the House with a vote of 217 to 213. Included in the bill is the provision to defund Planned Parenthood of Medicaid reimbursements for one year (the more than $390 million dollars will be reallocated to federally qualified health centers that offer greater comprehensive care for women and do not provide abortions). The bill now moves to the Senate, where if passed, will be signed into law by President Trump.
September 29, 2017: "Majority Leader Mitch McConnell (R-KY) announced that the Senate will not vote on the latest health care bill known as the Graham-Cassidy-Heller-Johnson (GCHJ) proposal, ending immediate efforts to repeal and replace the Affordable Care Act (ACA)…Republican Senators John McCain (AZ), Susan Collins (ME) and Rand Paul (KY) announced that if the bill was brought to the Senate floor they would not support it. In addition, Senator Ted Cruz (R-TX), said he did not support the measure as written, and several other senators had not taken a firm position on the plan. Senate leadership needed to retain the support of at least 50 Republicans to pass the bill, with Vice President Mike Pence breaking the tie under reconciliation rules. While the Senate may return to health care reform after addressing tax reform, the expedited budget reconciliation process used in the health care reform effort expires on September 30 with the end of the federal fiscal year and therefore reform supports will need to garner 60 votes to overcome a filibuster from Senate Democrats to pass any repeal and replace measure (Society for Human Resource Management, 9/29/17)." 
Make the Hyde Amendment Permanent Law
The House of Representatives passed H.R. 7 (1/24/17). It now needs to pass the Senate to be signed into law by the president. This action would permanently ban federal funding and subsidies for abortion and healthcare plans that include abortion coverage.
Sign into Law the Pain-Capable Unborn Child Protection Act
Over a dozen states have passed Pain Capable Unborn Child Protection Acts prohibiting abortion after twenty weeks, the point at which current medical research shows that unborn babies can feel excruciating pain during abortions, and President Trump has promised to sign the federal version into law. H.R. 36 – Pain-Capable Unborn Child Protection Act was introduced 1/3/17 and referred to the Subcommittee on the Constitution and Civil Justice 1/12/17.
October 3, 2017: "The GOP-backed 'Pain-Capable Unborn Child Protection Act' won by a vote of 237 to 189. While it would make it illegal to have an abortion 20 weeks after fertilization, the measure does include two key exceptions: to save the mother's life or if the pregnancy resulted from rape or incest…Ultimately, three Democrats voted in favor of the bill, including Reps. Daniel Lipinski of Illinois, Henry Cuellar of Texas, and Collin Peterson of Minnesota. Meanwhile, Republicans Charlie Dent of Pennsylvania and Rodney Frelinghuysen of New Jersey bucked the majority of their party and opposed it. The measure, H.R. 36, is still a long way from becoming the law of the land. The Senate has yet to schedule a vote…(CBN News, 10/3/17)"
Sign a Human Life Amendment into Law
The 2016 Republican Platform included the following: "We support a human life amendment to the Constitution and legislation to make clear that the Fourteenth Amendment's protections apply to children before birth."
Either a human life amendment to the Constitution, or legislation making it explicitly clear that the Fourteenth Amendment to the U.S. Constitution grants the right to life to all pre-born children from the moment of conception, would finally making abortion illegal nationwide.